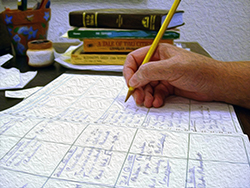 Course Description:
Lesson planning is one of the most overlooked and underappreciated areas in teacher development.  However, a good lesson plan is the key to a successful class.
This course will give instruction on the direct implementation of methodological teachings in lesson planning, including context, aims, sequential lesson planning, and evaluation.
Furthermore, attention will be given to the preparation and planning of non-traditional lessons, while teaching various skills and language points, to make the target language or skill more interesting for students.
a 7-day in-service course for a class of 16 participants
Aims: 
The course intends to give insights into:
the implementation of teaching methodology into lesson planning.
Planning a single lesson into a sequence of lessons.
The preparation of non-traditional lessons
The development of a shared, communal resource file for supplemental materials.
Requirements for a Certificate: 
Minimum attendance requirement is 75% of course events.
Practical Tasks like group and individual planning, observation, demonstration, micro-teaching, discussion and feed.
Assessed portfolio work
Details:
During the 7 day series of sessions, the participants will also have the opportunity to prepare, present, and critique various lessons from the class books which they use in their classrooms.  All in all, this course will allow every participant to understand the value and usefulness of lesson planning and will instill valuable principles that they can use in creating the perfect lesson plan. To use in their classes.