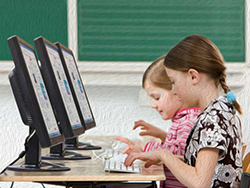 Course Description:
This course is intended for teachers with a desire to increase their proficiency in using technology in the classroom, especially for those educators wishing to learn how to effectively integrate e-learning platforms to run along with their courses. The course content is not limited to teachers of a specific subject.
The training provides teachers with resources and various tools with which they can boost their e-learning content explaining the usage and giving tips concerning various ICT tools within, as well as, outside of classes.
a 3-day in-service course for a class of 16 participants
Aims:
 The course intends to give insights into:
innovative online teaching and learning solutions
comprehensive knowledge of using the Web, blogs, wikis, instant messaging and social media
obstacles to and advantages of using technology
Learning Management Systems in general
Oxford Online Learning Platform
Cambridge Learning Management System
using Edmodo to promote student engagement
integrating Moodle into school context
online resource centers
using Google Drive, Docs and Forms
online evaluation and assessment
Requirements for a Certificate: 
Minimum attendance requirement is 75% of course events.
Practical Tasks like group and individual planning, observation, demonstration, micro-teaching, discussion and feed.
Assessed portfolio work
Details:
This course also introduces ways of motivation and creative thinking through ICT for both teachers and students, introducing and explaining ways of enhanced communication within the teaching and learning process through ICT.
At the end of the course the participants will have knowledge of:
effective use of ICT tools, software applications and digital resources
integrating ICT into teaching-learning and its evaluation
acquiring, organizing and creating their own digital resources
participating in the activities of teachers' networks
evaluation and selection of ICT resources
practicing safe, ethical and legal ways of using ICT
using ICT for making classroom processes more inclusive